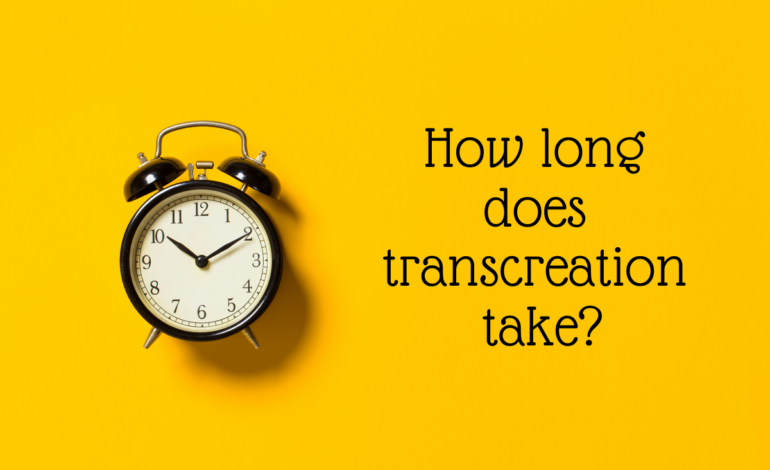 We're often asked how quickly we can deliver. Generally, transcreating is one of – if not the – final step(s) in a long process that starts with the development of a brand and ends with the rollout of an international marketing strategy. Of course, project management would be a whole lot easier if the time required for transcreation could be neatly summarized in a simple formula, like so:

Still with me? Jokes aside, working out the number of hours needed is far from straightforward. Clients are often surprised by how long it takes to transcreate a document. They wonder why a text that so many brilliant minds have labored over for countless hours can't simply be translated into another language. Surely it's not that hard?!
Exhibit A: the cult slogan
But what actually happens when a text is transcreated? Let's take a well-known advertising slogan as an example: "Kids and grown-ups love it so, the happy world of Haribo!" At first glance, it seems unbelievably simple. But that is precisely what makes a slogan so unique: It manages to communicate the core message of a brand in just a few words. A slogan should be catchy, convey an emotion, and stick in the customer's mind.
But what appears effortless is in fact the result of countless hours of brainstorming and seemingly never-ending discussions. To put it plainly: That one short sentence required a whole lot of work. If you were to literally translate the Haribo slogan into French, you would get the following: Les enfants et les adultes l'adorent, le joyeux monde d'Haribo. Although an accurate translation, it's nowhere near as memorable. And you don't have to be a French native speaker to see it: The rhyme is nowhere to be seen and the catchy melody of the original has been lost.
The transcreation process: back to the drawing board!
What we need is an alternative. To ensure the slogan (and thus the product) is also successful in the French-speaking world, a French version is required that customers will remember as soon as they hear it. But the French slogan must also stay true to the original. So, we need to
convey the message of the original slogan,
elicit a similar emotion among our French-speaking target audience,
respect the brand's tone of voice and values,
and create something that is short, snappy, and memorable.
In other words, a transcreator must come up with a brand-new slogan. And their method is similar to the one used to develop the original tagline. First, they make sure they have an overview of the company and their services, their target audience, and USPs; second, they brainstorm, i.e. develop several different versions; and, thirdly, they tweak the chosen phrase until it is as good as the original (if not better). If we return to our original example, we can compare our direct translation to the actual French slogan: Haribo c'est beau la vie, pour les grands et les petits. It sounds just like the original: It rhymes, it's catchy, and it's accurate. And it's clear that this new transcreated version is a world away from the literal translation.
Worth the effort?
The second question that clients most often ask when considering transcreation is: "Is it worth the effort?" Most can understand the importance of going to such lengths to get a slogan right, but what about online copy, social media posts, and emails to clients? Surely they can just be translated, right? In her book Translation-Transkreation, Nina Sattler-Hovdar, the authority on the subject in the German-speaking world, recommends always resorting to transcreation if
"[…] the text to be translated is important for the client's image (and thus has a direct or indirect impact on their revenue). […] This means texts that can substantially benefit a brand's image (or do lasting damage to a brand if they underperform)." [Sattler-Hovdar, 2016: p. 20] (own translation).
But why? Let's imagine you are working on an email campaign specifically aimed at a younger target group, e.g. millennials. You use a more informal style and perhaps consider a funny play on words for the subject line to grab your prospective customers' attention (and to boost your open rate). What happens when this email is directly translated into German? Can you be sure to keep the same laid-back tone without offending any prospective readers? And what about your attention-grabbing subject line? Any sort of wordplay is almost always lost in a literal translation. In sum, everything that would resonate with your English-speaking audience and make your email unique would simply vanish – unless you decide to have your email transcreated so that the modern, fresh tone of voice is still conveyed but in a different way.
Stay closely involved
Marketing texts involve considerable human and financial resources, and that is precisely why it is wise to also plan sufficient time for your transcreation. Only then can you be sure to convey the right message to your customers. So, how much time should you set aside for your transcreation? A good rule of thumb is to look at how much time it took to create the original: the longer it took to develop the final copy, the more time you will need to finalize your transcreation.
Ideally, you should ask an experienced transcreation specialist to give you their opinion. They should be able to tell you where the text is likely to cause issues in the target language and why. You might also be able to offer some helpful tips that enable transcreation professionals to come up with some effective alternatives: Even if you're not a professional linguist, nobody knows your product or your company better than you. This means you are more involved in the transcreation process and may allow you to keep the number of necessary revisions to a minimum. It's also important to thoroughly brief your transcreator. How should an audience perceive your brand? What does your company stand for? Who is your target audience? A professional will ask you all of these questions. The more information you can provide, the more efficient the remaining steps will be.
To summarize
The length of time needed to transcreate a text largely depends on how much creativity has gone into the original. For instance, a slogan usually requires more creative thinking than a newsletter text as it has to capture the very essence of a brand in just a handful of words. An experienced transcreation specialist will be able to give you an accurate estimate of the time required for your project so that the resulting text is just as well thought out, catchy, and compelling as the original.